July 9th, 2033
---
09:39 am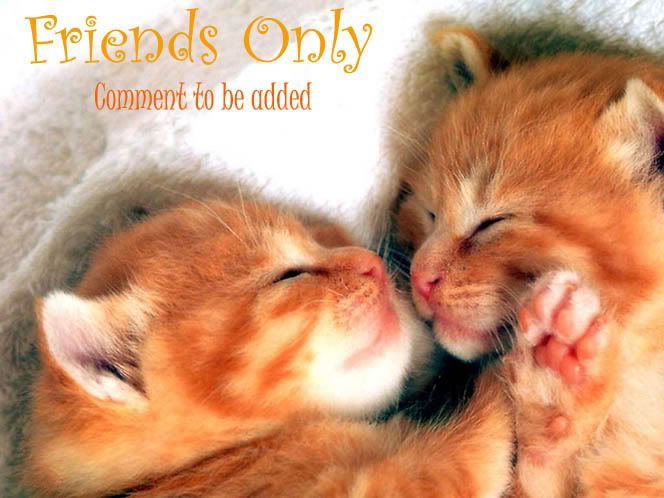 This journal is now friends only. If you're on my friendslist, you have nothing to worry about. Those of you who would like to add me, leave a comment. I'm not really all that interesting anyway :P

October 16th, 2013
---
04:52 pm
I really miss writing in my LJ sometimes....
Current Mood:
calm

June 14th, 2011
---
03:04 pm - Voice Post
VoicePost
677K 4:09

(no transcription available)
02:54 pm - Voice Post
VoicePost
629K 3:51

(no transcription available)
November 28th, 2010
---
10:04 pm
Well...hello there! I'm not dead. I've just been lazy and haven't felt like writing lately. So much has happened since my last update and I should have been updating as they happened. I guess the two main things:

Aaron finally found a job! He is currently working in the kitchen at Georgian College here in town. The pay isn't that great, minimum wage, but he's getting alot of hours, so that kinda makes up for it.

The second thing is:


I'm moving in with Aaron!!!!! He asked a few weeks ago if I would move in with him and I said YES! I'm excited and nervous at the same time. We brought some of my stuff over there today. Mostly books and movies. Ahhhhh! We've been together for two years now so it's about time.

Also....

RIP Leslie Nielsen :(

March 4th, 2010
---
03:01 pm
Uh...hi?

Hey! I'm still alive. Still on LJ. Mostly to read various communities and LJs. I feel bad about not updating, when so much has happened since I last wrote anything. The most important thing that has happened since I last wrote?

Aaron moved here!! He now lives here in Barrie. Ten minutes away from me. No more hour and a half drives to see each other a few days a month. Now we get to see each other pretty much every single day. He's been living here since November. I helped him look for an apartment and I helped him move to Barrie too. I even got to meet his dad who was pretty nice. I didn't really get much of a chance to talk to him since he was helping with the move and all.

So I think it's safe to say that things with Aaron are going VERY well ;) We've been together for a year now!

Aside from that major bit of news, not much else is really going on with me. I'm still at my crappy-ass job. Been there for five years now. I hate my boss.

Hmm....saw Avatar which was fucking amazing.

I'm now into Lost, Grey's Anatomy, and Breaking Bad.

Christmas and New Years were both awesome. Aaron and I spent new years eve together. My parents got him a fondue set for christmas, so we ended up having a fondue, wine, watched the countdown on tv and watched the fireworks downtown from his balcony.

Um...yeah....

I'd love to write more, if only I remembered what the hell has happened since my last entry.

WRITE MORE DAMN IT!

Still on facebook and now on twitter. Whoop de doo.

I'm currently reading an awesome book series. The Terry Goodkind "Sword of Truth" series. I'm currently on book 6 of 12.

Sorry for the poopy update.

June 24th, 2009
---
09:14 pm
Yeesh. It's been way too long since I updated. I don't have any excuse. I'm just lazy. I come on everyday and read everyone elses updates. I need to update more often when shit happens so I remember it.

I haven't seen Aaron since the 21st of May, so just over a month now. He has been incredibly busy with school and has had absolutely NO time to see me. He is going to school to become a chef. Now that he is done with the crazy part, he has a bit more free time. So I am going there this Friday and spending a week with him. We're both really really excited about it!

Last time I saw him was the weekend of the 15th. It was kind of a last minute thing since he was starting school on the 19th. He came on the Friday and left Saturday evening. I thought that would be the last time I saw him, but the night before he started school I got a text message from him telling me to look out the window. He surprised me AGAIN! I was really surprised because he was starting school the next day. He said he wanted me to be there for his first week and that he wanted to come home to me every day so he could tell me about his day. He took me home on the 21st and I haven't seen him since. lol.

But....I get to see him on Friday!! Yippee!!

Oh! Remember how a few entries ago I'd mentioned how a few of my exes were coming back into my life? Well guess who else decided to come back into my life?

CHAD.

For those of you who don't remember who he is, he's the douchebag I dated for three years until he decided to move to Alberta. Started dating some gross donkey looking girl and apparently now they are engaged. You may also remember that I threatened to have him charged with harassment after he came back for his moms funeral and called me every day to pick a fight. Yeah...we're talking again. He apologized for treating me like shit and said that he's changed (yeah right) and that he is really happy for me. As much as I appreciate the apology, it really doesn't mean shit to me.

Also...remember Anthony? I mentioned him a few entries ago about how we were talking again. I dated him back in 2004. We're still friends. His wife is jealous and posessive. WELL he came to visit me about three weeks ago. It was AWESOME! I haven't seen him in four years so it was really nice to catch up with him again. He drove SIX hours just to see me. We went out for breakfast, drove around and then went to Boston Pizza for lunch and then he drove home. We're planning on getting together again sometime after I get back. Jealous wife be damned. Him and I are friends. She can't stop him from spending time with a friend.

And THEN there's Ben. Oh my...I mentioned in the previous entry how he contacted me again and said that he was a jerk about how he ended things with me. We were talking again and it was good and then he told me he was moving waaaay up north to live in a trailer. I asked him why he even bothered to come back into my life if he was just leaving it again. A bunch of other stuff was said, which led to him removing me from facebook and not talking to me yet again. Well NOW he is talking to me again. Said that he deleted me because I was a reminder of what he left behind.

Arrgh. Yeah. Anyway. HE ended up coming to visit last week, which was also nice. We went out for lunch, went shopping, sat down by the lake and then went to the drive in. We ended up seeing Night at the Museum 2 and Wolverine. We also talked quite a bit about everything that happened. It's quite clear that he still has feelings for me still, but he understands that I have moved on and am quite happy now. But I will admit that he is still as cute as ever. lol.

What else?

Oh yeah! Last week I went with my friend Mary-Rose to see The Hangover. It was pretty much the funniest movie I have seen this year! I need to see it again!

Hmmm oh and I've also recently started watching Sex and the City. Saw the movie back in November, was forced into watching it when I went to visit my smelly ex Chris. He downloaded it for Sam and her husband and Dave, and we all watched it. I quite liked it. But hadn't seen the show at all. Now I am hooked. Too bad I didn't watch it when it was on. lol.

Oh yeah and speaking of smelly Chris, Sam and Dave finally kicked him out of their house awhile ago. She said that he smelled so bad that they had to wash the couch cover three times after he left AND they had to take straight bleach to the walls of his bedroom. According to her, the entire six months he lived with them, he only showered six time. Anyway, after they kicked him out he ended up moving to Kingston and moved in with a gay couple. Took a girl on a date to a strip club. Classy. It doesn't end there. He apparently got evicted from the place he was living and ended up moving back in with Sam and Dave. They let him stay a week before they kicked him the hell out and sent him to live with his mother in Hamilton. According to Sam he has gained a shit ton of weight, has a long beard and long hair and STILL hasn't showered. What the fuck was I thinking dating him?? Aaron says it was probably low self esteem. lol.

Anyway, I THINK that's about everything. I'm sure there's more but I can't remember. I need to update more! I will make sure to write before I go away for the week.

May 13th, 2009
---
11:06 pm
Wow..so it's been 31 days since I updated. Shit. I seriously meant to update but to be honest, I have barely been home at all. For the past month I've pretty much been in Brampton with Aaron, only coming home to go to work.

My birthday was quite awesome. Aaron came a day early and surprised me yet again by calling me while in my driveway. He took me to The Keg for a nice steak dinner for my birthday, which was totally awesome, and incredibly expensive.

The next night we went and saw the Trailer Park Boys which was totally cool. We had amazing seats, about four rows from the stage, I could practically reach out and touch the stage! Getting to see Bubbles, Ricky and Julian in person was pretty freakin incredible!

After Trailer Park Boys we went back to Brampton. My parents gave me $50 for my birthday so Aaron and I could go out for dinner or a movie. We ended up going to an all you can eat sushi place that recently opened in Brampton. It was fucking incredible and it was less than $30 for the two of us.¸

I just realized I've used the word incredible quite a few times since I started writing this.

But yeah. My parents finally got to meet Aaron and they absolutely loved him. He even wrote them a thank you note for letting him stay here and feeding him! Wow! I still have yet to meet his parents though. He's just not ready to introduce me to them which is fine. No rush.

I think it is very safe to say that things are going VERY VERY well between us. And if you have any doubt, the following is a text message that I woke up to this morning from him:

"I just wanted to tell you that I love you with all my heart, and you are my beautiful sunshine, and I love you more than I can say. I want you to be happy and full of love. Your true happiness is so important to me. I love your warm passionate heart, and your sweet smile. I'm sorry for all the shit you've been through, and I hope you can still live your life with an open heart and an open mind. I will always be here for you, and you are an amazing woman, and if you could only see it, it would make me so happy! Your only limitations are the ones you put on yourself. Anyway, I don't mean to ramble on, I just wanted to tell you how much you mean to me. You mean the world baby. I love you. And thank you for putting up with a crazy mofo like me!"

AWWWWWWWWWWWWW!

December 26th, 2008
---
09:50 pm
I am bored
I am bored
I am bored
I am bored
I am bored
I am bored
I am bored
I am bored
I am bored
I am bored
I am bored
I am bored
I am bored
I am bored
I am bored
I am bored

I am leaving on Sunday to spend a week with Aaron in Brampton. Have been trying to get ahold of him for a few hours. His phone is turned off. Gahhhhh!

I am bored
I am bored
I am bored
I am bored
I am bored
I am bored

Visited my grandpa and my aunt today. Had lots of fun.

And now......

I am bored.

And.....

I do not want to go back to work tomorrow.

This is pointless.....

December 25th, 2008
---
05:05 pm
Wow! Okay well first off I just want to say MERRY CHRISTMAS! I hope everyone had a great christmas and got what they asked for :P I got The Dark Knight on DVD, which is exactly what I wanted. I also got an ipod docking station, clothes, chocolate, scratch tickets and money. Yay.

Now...secondly I want to apologize for the lack of updates in this thing. I've been totally swamped with things since the last time I wrote anything. Plus work has been fucking INSANE!! It's finally slowed down so I now have time to write here.

Man.....I had this whole entry thought out and now I have writers block! Grr!

I'm still single....but I really don't care because I am having more fun being single. I've actually gone out on a few dates with a few different guys. Go me! Nothing serious though. There's actually one guy I'm pretty interested in at the moment, but I'll get to him in a second. First I must write about Chris....and Ben (yeah geez)

Yeah so....last time I wrote in here was when Chris and I broke up. We didn't speak for awhile. He was REALLY pissed at me for the stuff I said. But things are good between us now. Kinda. I'm still friends with Sam and Dave and they kept bugging me to come over. I didn't think it would be a good idea seeing as how Chris lives there and never leaves, and I figured it would be awkward. But it turned out to be good because Chris and I ended up talking and he said that HE was the one who acted like an ass and was sorry and he forgave me for what I said. So....we've decided to stay friends which is good.

Yeah.....and I finally heard from Ben. Last weekend I got an email from him on facebook totally out of the blue. He said he'd been thinking of me and admitted that he was "kind of a jerk" about things. Out of the fucking blue!! He hasn't said ONE word to me since we broke up in September, no phone call, no email, NOTHING. Why now? We've been talking on MSN again. He said that since he's been off work he's had some time to think. He seemed to hesitate when I asked him if he would have even BOTHERED to contact me had he still been working. But I guess it's nice that we're talking again. I dunno what he wants. My guess is he just wants to get laid.


Okay so NOW I can write about the new guy! :P His name is Aaron and I met him on facebook shortly after Chad and I broke up. He added me out of the blue one day and we've kinda been talking off and on ever since. He's so cool. He's 28 years old, has his own place in Brampton, has a steady job, and drives his own car. Nice! We've finally just started texting and talking on the phone since the end of November! We are FINALLY meeting this weekend. I am taking the bus to his place in Brampton this Sunday and I am going to be staying there for the week. I know it seems kind of weird and kind of sudden to be doing that when we haven`t even met yet. We just get along so well on the phone and we have so much in common and are so similar. It's like we've known each other for years. We both like each other a lot. Though...he says he isn't looking for a relationship, but he is making plans for the summer for us. He wants to take me to Canada's Wonderland and he wants to go camping and he wants to go to Niagara Falls. Plus he said he wants to do something on valentines day and my birthday AND said that he wants to move here to Barrie. So...I dunno. I guess only time will tell. He also sends me the funniest text messages too. He sent me this one on Tuesday:

"Hello my beauty, dost thou have glorious excitement for the festivites that await us at the year anew?! Ah, we shall live like royalty!"

Well it made ME laugh anyway.


Tomorrow will be visiting my grandpa and aunt. Hooray. I'm going to go watch The Dark Knight again. I promise I will update more in the future.